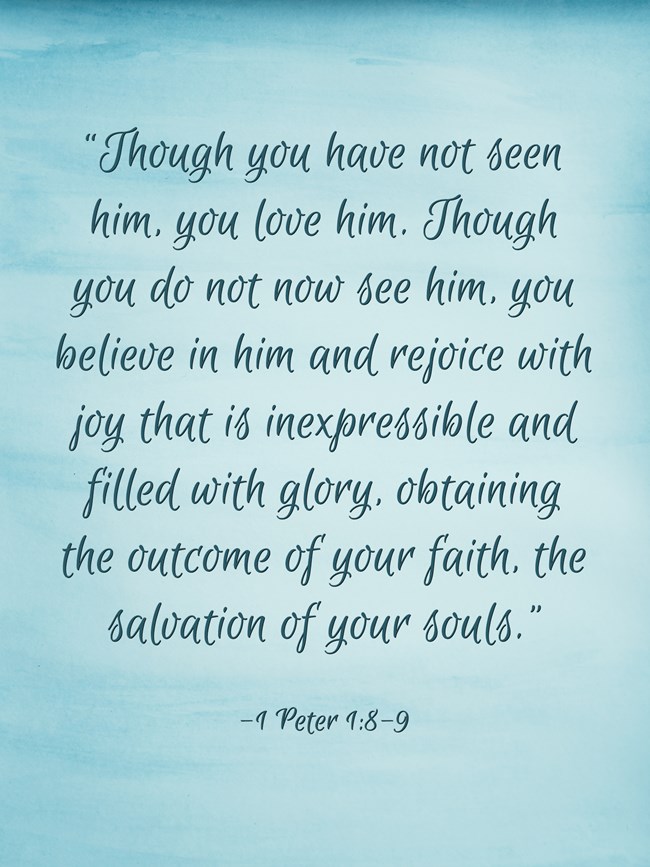 In this passage, Peter calls us to love our unseen Savior with joyful rejoicing. He assumes because of our love we will choose joy.
Let's look deeper at the responses we should have to Christ Jesus.
Hope. Hope in someone we haven't seen is a tremendous act of courage; but it is the foundation of our Christian faith. It is a hope in Someone with the best track record. It is a hope in Someone with solid evidence to back His words. It is a hope in Someone whose deeds and words have withstood the test of thousands of years of skepticism. We have to trust, but it is not a foolish trust!
Love. This passage points out that we Christian knights do more than hope in Christ… We love Him. We love Him because we firmly believe He's wiped away the guilty past which plagued us. We love Him because we know He's purchased a sure place in Eternal Bliss for us with His very life's blood. We love Him because He first loved us. But we also love Him because of who He is: the righteous, magnificent King and Creator of the universe. 
Joy. Firm belief and love for Christ generate true joy in our lives with Him. This is a joy so potent it's hard to describe. This is a joy rooted in indelible, wonderful truths: a joy that outlasts our hardest troubles. And it's a joy "full of glory," brightening dull lives and sparking a spirit of wonder. It's a joy we should choose and live every day. (Even further, joy in the Lord is our strength!)
Our Hope, Love, and Joy is the Savior is all seated in gratitude and a new sense of purpose: to glorify God and enjoy him – forever!
Our purpose and duty should include a true Joy in Christ.
A Lasting Joy. One thing I love about chivalry is that it accentuates the joy of the Christian in long-lasting, practical ways. Leon Gautier wrote of French chivalry that it caused knights to ride into bloody battles with merry songs on their lips. This joy calls us to put our strength and skills to work in the most glorious quest of all, giving us a real outlet to show gratitude to our yet unseen Savior. It is He we should love above all things we can see. We walk in hope of the day we'll finally see our Lord face to face, and hear his commendation: "Well done, good and faithful servant!" It is wise to give our efforts to the glory we know will outlast everything else. That's lasting honor. That's a joy that will never fade! And a joy that will restore our soul.
A Cheerful Joy. I often hear it said that joy is more than mere cheery disposition and not the same as happiness or merriment; that joy is a more sober assent to spiritual reality despite depressing circumstances. There's some truth to that. But the Greek word in this verse literally refers to gladness and to cheerfulness. Stop pretending and explaining away God's prescription to us! A pessimistic outlook and a constant frown little befits those whose pasts are cleansed and whose lives are enlightened by a perfect Savior.
A morose attitude toward life does not fit well with a Christian!
What should we do instead?
Choose joy. Try to rejoice, even if it doesn't come naturally. Consider the Sea of Goodness your Heavenly Father bathes you in. Choose to cast away that gloomy mood and put on one of good cheer – an attitude we're called to in Scripture more than once.
Serve with joy. This very attitude is a means of serving Christ. It's attractive and shows the unregenerate world you've found something great. It's a very real way to make much of Christ. And it's a very real way to show Him you're thankful for His kindnesses. A father heaps goodness on his children, anticipating their happiness. It makes his heart sad to see them go about angry and downcast despite all his excellent gifts.
Choose to rejoice!
Embrace the duty of gladness. Exercise those smiling muscles. Open our hearts to joy again! Live renewed lives in the light of thankfulness and anticipation of the day our souls shall rejoice, with unending joy, in the presence of our Lord forever!