This is the last of my Christmas series on some of the good works and wonderful blessings to mankind that are a "side effect" of Jesus' birth. This series was inspired by "What if Jesus Had Never Been Born" by the late Dr. D. James Kennedy.

Well, my dear readers, Christmas has already crept up on me. I will post today three more side effects of Christ's incarnation to officially finish this series. As 'tis currently thirty minutes into Christmas day that I am writing this, they will have to be a bit more brief than the previous posts. I encourage you to continue pondering the great magnitude and vast number of ways Christ's appearance on this little spinning globe have effected our everyday lives.
And have a very merry Christmas, rejoicing in the wonder of Christ come to save us!
Side Effect #5: Strengthening of Peace/Suppression of Violence
"Glory to the God in the highest, and on earth peace among those with whom he is pleased." –Luke 2:14
The coming of Jesus Christ had the effect over the ages of producing an elevated respect for peace, and has inspired millions to labor for the spread of peace and the repression of violence. This is because the Lord born at Bethlehem is the same Lord Who
"
…tests the righteous, but his soul hates the wicked and the one who loves violence

"

(Psalm 11:5). Those who know best their Savior are those who are most willing
to
"
turn the other cheek
"
(Matthew 5:39) in response to hurts done to them, and to be servants of all rather than being like the warlike and violent kinds of pagandom
"
who lord it over
"
anyone they can find weaker than themselves (Matthew 20:25).
I think that,
in this age reverting to rampant barbarism and an obsession to violence, it is good to remember that historically and doctrinally Christ's followers ought to be peaceful. Certainly this does not mean that a Christian cannot fight a just war (though this has been a debate even in the church for many centuries). Leon Gautier wrote both concisely and elegantly on this point in his wonderful work on Chivalry…
"The Church's theory is well known in three words– She hates war! Vainly have certain sophists endeavoured to tone down the grand words of the Saviour, "They who take the sword shall perish with the sword." After much hesitation and the inevitable searchings out, the true thought of the Church was magnificently formulated by Saint Augustine when he said– 'He who can think of war and can support it without great sorrow, is truly dead to human feelings' and when he laid down the grand principle – this fertilizing principle, 'It is necessary to submit to war – but to wish for peace.'"[1]
Here are some examples of a few bold Christians in the past who took a stand against violence around them…
Pope Leo I (c.400-461)

himself traveled with envoys to Attila the Hun, at great risk to himself, and negotiated peaceful withdrawal of the Huns from Rome. There is still great mystery about what Leo said, but it certain that after meeting with him in 452, Attila turned back from his intent to sack Rome, and thousands of lives were saved. The great Renaissance artist Raphael depicted this event in his painting "The Meeting between Leo the Great and Attila."

Gladys Aylward (1902-1970) risked her life in war torn China to lead 100 orphans away from the Japanese invasion forces in 1938. Before that she worked with the Chinese government as a "foot inspector" – an official tasked with stopping the cruel cultural practice of stunting the growth of girls' feet ("footbinding") in China.

Sam Childers, "the machine gun preacher," risked his life again and again to build an orphanage in war ravaged Nimule Uganda Sudan. A devoted Christian converted to God from a hard life of drugs and violence (he was an armed guard for drug dealers before his conversion), Childers was appalled by the violence against children he witnessed during the Second Sudanese War in 1998, and determined to do something to bring peace to as many of the over 200,000 children ravaged by the war. You can read about him

here

.
Side Effect #6: Inspiration of Great Art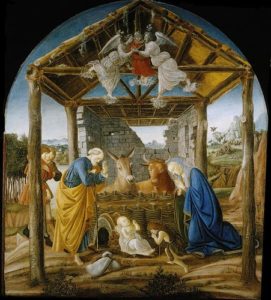 Botticelli's Nativity
The birth and life of Christ (and the influence of His teaching) have inspired vast amounts of art in a host of disciplines over the centuries, including most of the greatest works of art you can think of.
This is true directly (an example would be Botticelli's depiction of the nativity) or indirectly (as we find with the stunning realism that flourished among the Dutch Masters as a result of Reformation teaching that earthly things matter). Entire schools and genres of art have been directly inspired by Christian teachings (such as the religious icons produced copiously through the Middle Ages).

Some of the greatest writers in history (such as Dante, Spenser, Charles Dickens, Sir Walter Scott, C.S. Lewis, JRR Tolkien, Emily Dickenson, and T.S. Eliot) either claimed to be Christians or wrote about Christian themes.

Some of the greatest musicians of all time were inspired by Christ. One thinks of J. S. Bach, who wrote

Soli Deo Gloria

("to the glory of God alone") in the corner of sheet music, or George Frederick Handel whose masterwork

The Messiah

is a large conglomeration of Scripture verses about Jesus set to music.
Side Effect #7: Advance of Education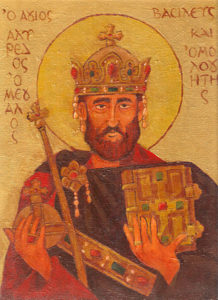 Alfred the Great
Contrary to popular propaganda, the Church has expended great effort over the centuries to promote education, even among the "common people." Here are a few examples…
King Alfred the Great (849-899) reformed education in Medieval England during his reign, establishing monasteries, directly reducing illiteracy among children by having many of them educated in his court, and producing translations of a large number of writings into his people's tongue.

It was in Christian monasteries that learning was preserved through the Middle Ages.

Public education in our country was started by Puritans (specifically to help people read the Bible for themselves) in 1647 with "The Old Deluder Act."

Christians started some of the most influential universities in history including Oxford, Yale, and Harvard.

Christian "Sunday schools" were started to help educate children on the streets (with more than just Bible stories).
There is no better news than that of God coming to earth to save our souls. I would encourage you to follow the example and words of the Savior incarnate. A Christian ought to be the most compassionate, wisest, kindest, most just, most industrious, most inquisitive, most helpful person society can point to.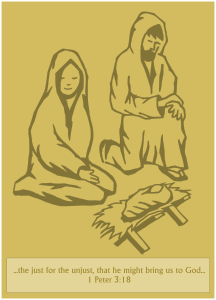 And there you have it! A few more reasons you should think of the birth of Christ as tidings of great comfort and joy!
[1] Gautier, Leon. Chivalry. George Routlege and Sons, LDT: London, UK. 1891. http://bit.ly/1JxUUQ4Accessed 12/24/15