Christ taught us in the Lord's Prayer to pray for forgiveness of our sins. A legitimate question arises, when thinking about Christian repentance. If Jesus died for all of my sins, why do I need to ask His pardon for specific sins after becoming a Christian? Why ask forgiveness from my sins over and over again?
Repeated repentance is necessary! We know this in our hearts, as we struggle through the reality of living with daily temptation, tainted by sins we know we still commit. Christians still need to ask Christ's pardon for sin daily – indeed, even more than daily.
When we become Christians, that "old man" of sin, that monster living inside our fallen hearts, doesn't just vanish (Romans 6:6-23). We become redeemed humans, but we don't cease to be human as evidenced by our repeated failures after coming to Christ.
Scripture commands Christians in multiple places to approach God in repentance for forgiveness whenever they sin. We trust God's grace we have in Christ as we constantly realign ourselves back to Him in repentance. A good example is 1 John 1:9: "If we confess our sins, he is faithful and just to forgive us our sins, and to cleanse us from all unrighteousness." John was writing to Christians. Then and now Christians are to live a life of repentance, relying on (and asking for) God's forgiveness when they trespass his law.
Repenting, for a Christian, is remembering. It is turning back to God, away from our sins, and trusting again in the constant reality of Christ's pardon. It is remembering and acknowledging again that we are Christ's: that we trust in His sacrifice alone for cleansing and that we intend fully to follow him from now on. This is the chivalrous way to repent. Howard Pyle, that great American purveyor of chivalric tales, gives us a beautiful image of knightly repentance in the words of Sir Lancelot.
"Lo, God! I am Thy handiwork. I have sinned and have done great evil, yet I am still Thy handiwork, who hath made me what I am. So, though I may not undo that which I have done, yet I may, with Thy aid, do better hereafter than I have done heretofore."[1]
That's the chivalric spirit of repentance. I am still God's handiwork, his sworn servant. He is still my liege-Lord, despite my sin: and I'll return to Him and serve Him again now that I'm in my right mind.
Once we are Christians we never stop belonging to God. Our failures, however horrible they might be, don't excuse us from coming back to the Savior to whom we swore our life-long allegiance, and in whose blood we trust completely for pardon (not in our tenuous deeds).
This is a large part of the 10th Commandment of Chivalry, which commands a knight to fight injustice and evil. Much of the time this means a knight must fight the evil inside himself: and repentance is a major way he does that. When he falls in his face, the Chivalrous Christian gets back up… Even if his legs shake and his heart quails… And he does it again and again… every time he falls.
Have you sinned again and again and again? Come to Christ in repentance: again and again and again! Remember that He is longsuffering in a way that puts us all in awe. Don't come to God with pride or presumption or haughtiness. Don't come with a frivolous heart, or an attitude of dealing with a formality like you would a spiritual tax form.
Christ's blood will cover you. He can, yet again, cleanse you of your sin! Rejoice that you're forgiven. Listen to the words of Christ to a man who sought his healing: "Son, be of good cheer; thy sins be forgiven thee!" (Matthew 9:2)
Hallelujah!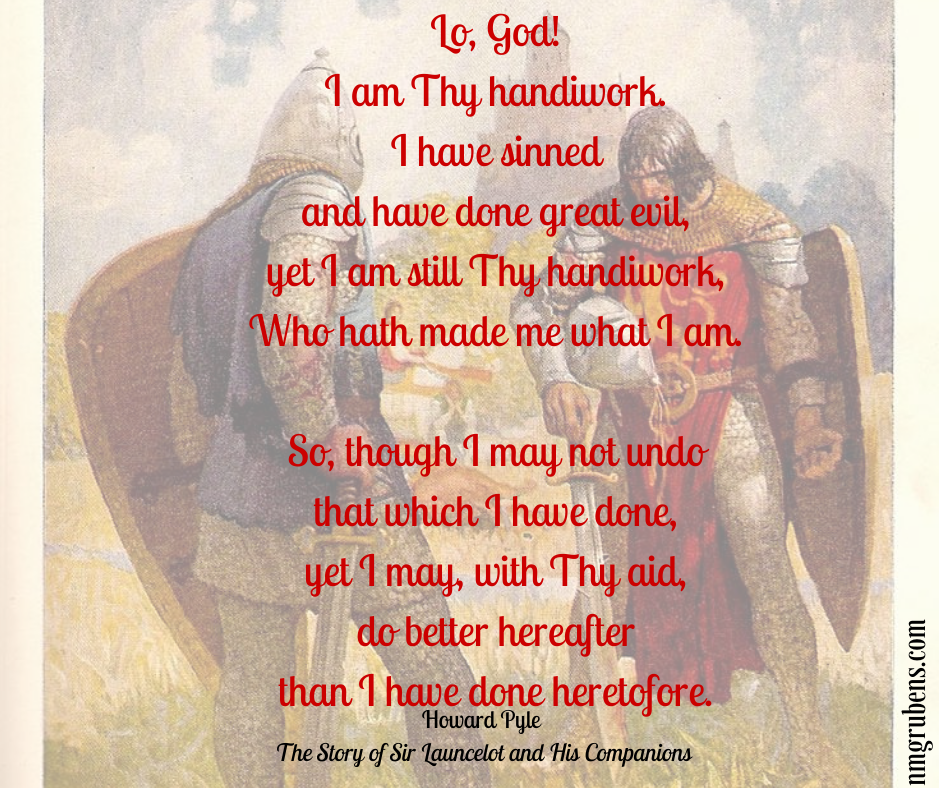 ---
[1] Pyle, Howard. The Story of Sir Launcelot and his Companions. https://www.goodreads.com/work/quotes/2352275-the-story-of-sir-launcelot-and-his-companions