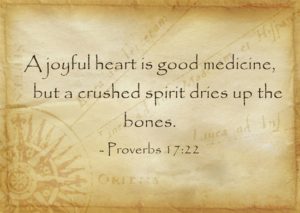 God likes us to laugh. One might say He made us to laugh! More accurately, He made us to experience joy, which includes but is not limited to, laughter. God's Word says a joyful heart is good for us, like kale that actually tastes nice. Today I'd like to ponder this joy Scripture holds out as a good medicine.
Joy is a critical topic for a Christian, because God commands it. Paul wrote in a distinct indicative, "Rejoice in the Lord always; again I will say, rejoice" (Philippians 4:4). This sounds almost absurd to us, and reading it wells up several questions in my mind. Specifically, three-year-old question (asked by toddlers everywhere to the endless annoyance of their progenitors) leap to mind: "Why?" "What is it?" and "How?" I want to consider several reasons for these, from the perspective of a Christian (as opposed to secular) life.
Why joy? Why should we rejoice always?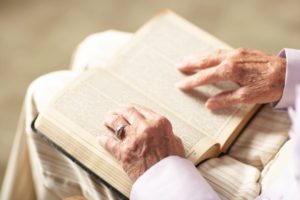 Joy is commanded by God. The first and most obvious reason why: God commands it. See Philippians 4:4 again. It's pretty plainly spoken.
Joy in God as our Savior. This sounds trite but think about it, really think about it. If you truly believe in the eternal nature of your soul, and the future of eternal life or eternal death, the stakes for your soul's fate could not be higher. As a Christian, God Himself declared His astonishing love for you by buying eternal life with His own Son. And He promises nothing will take that away. "I give them eternal life," Christ says of His sheep in John 10:28-29, "and they will never perish, and no one will snatch them out of my hand. My Father, who has given them to me, is greater than all, and no one is able to snatch them out of the Father's hand." The ultimate battle in life is won for us the moment we become one with Christ. Even through this temporary "vail of sorrows" we look forward to a certain eternity of bliss. What better reason for joy could we find? Ponder the words of verse 29. Our joy is rooted in sure hope, grounded in an omnipotent Father. Paul summarizes the application of his thoughts on soteriology in Romans 8:31: "What then shall we say to these things? If God is for us, who can be against us?" And that's about all we need to say to our oft-morbid souls, isn't it? God Himself is on your side, Christian, why don't you rejoice? The best reason for joy is that it's rooted in the best Person. Our joy as Christians stems from the nature and work of God himself.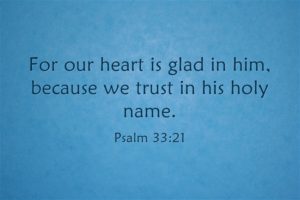 Joy helps accomplish good work. There is work to be done before we reach eternity, and joy is one of our best tools. At the end of Nehemiah 8:10, speaking to a broken Israel trickling home from exile by the generosity of a pagan king, Nehemiah declares, "…do not be grieved, for the joy of the Lord is your strength." A joyful heart energizes us to do the work God put before us. Conversely, a broken heart saps us of energy. I think this is largely the meaning of Proverbs 17:22 ("A joyful heart is good medicine…"). It makes us hale and ready to work hard at good things. I think this is one reason the New Testament often highlights the life transforming aspect of salvation as a motivation for holy living. Consider Galatians 2:20 (and I'd urge consideration of the verses surrounding it in context): "I have been crucified with Christ. It is no longer I who live, but Christ who lives in me. And the life I now live in the flesh I live by faith in the Son of God, who loved me and gave himself for me." We can be motivated to live holy in the present, because of Christ blotting out our past sins and giving us His righteousness. This is the soteriological (apparently I like that word today) way to say "the joy of the Lord is your strength." A forgiven heart is motivated to stay holy, like a joyful heart is motivated to cheerfully do good work.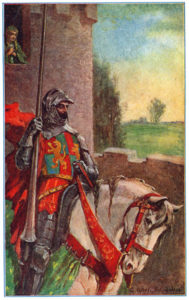 Leon Gautier talks about stern medieval knights of the old French chansons marching to their deaths in battle with cheerful songs on their lips. Cheerful! Even with the prospect of awful labor, of killing and of death, cheerful: because they believed their work to be just and good. I think this picture (grisly and outdated though it is) is a good image for the utilitarian aspect of joy Scripture holds out to us. Romans 13:12, Matthew 16:18, James 1:27, Colossians 3:23, Psalm 90:17, Colossians 3:24, Titus 2:7-8… Scripture is replete with injunctions for us to do the work of the Lord. And it is the joy we have in Christ, applied by the Holy Spirit, which gives us strength. The fact that I'm serving the Lord in everything I do is one of the best reasons to rejoice. I can do my job cheerfully, even when I don't enjoy it, because I'm doing it for the Lord.
Joy beats the alternative. This may sound silly but think about it. Life is hard and heartbreaking sometimes. Do we really want to add the misery of a morose disposition on top of hard circumstances, when we could instead make the best of them? Being joyless is, quite simply, no fun. And morose anxiety is useless. Jesus says much the same thing in Matthew 6:27: "And which of you by being anxious can add a single hour to his span of life?" Joy mobilizes us and makes life pleasant. Anxiety immobilizes us and makes us miserable, for nothing in return.
Joy is good for us. (Already mentioned, but specified in argumentative proof and outlined organization thusly!) Gladness is good for our bodies, for our souls, for our emotions, for our minds. It cures depression. It motivates us to persevere through exhaustion and get things done. It keeps us from going mad. And gladness, joyfulness, is good for the people around us. It makes us treat them with more kindness. It frees us to serve them cheerfully. And it's contagious.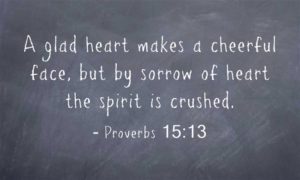 But what is joy? Now that we've flushed out why another basic question slaps us in the face. More specifically, "What is the joy commanded and commended to us in Scripture?"
The definition of Joy, published by Noah Webster in his original 1828 Dictionary:
"The passion or emotion excited by the acquisition or expectation of good…a delight of the mind, from the consideration of the present or assured approaching possession of a good…
Gayety; mirth; festivity.
Happiness; felicity.
A glorious and triumphant state.
The cause of joy or happiness.
A term of fondness…." [1]
A lot of things are meant by one little word. In Philippians 4:4 Paul uses the word χαίρω as joy. This carries the idea of being cheerful, glad, or thriving, or even "exceeding rejoicing" (Strong's G5463). In Proverbs 17:22, the word "joyful" is שָׂמֵחַ (Strong's H8056) and can be translated "glad, merry, blithe." It is from a primitive root that carries the idea of brightening up one's countenance.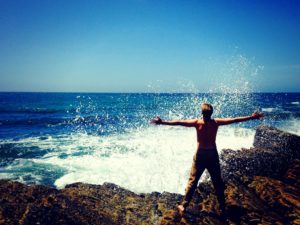 Biblical joy is rooted in Someone worthwhile, We can ascertain a lot of what joy is by knowing Who it is from. Namely, joy is God Himself, in his person, his character, and his work on our behalf. Biblical joy is for both our enjoyment and for the work God has given us. This work includes our jobs/daily toil (Gen 2:15), the work of mercy and justice (James 1:27), the work of evangelism (Luke 10:2), and more. Biblical joy is fierce, exhilarating, and stubborn. It outlasts our problems because it is rooted in God and hope in His promise of eternal bliss.
Biblical joy is more than a feeling. Because it's rooted in God our joy becomes more than emotions. It's an attitude. It's a way of life. That's ultimately why James can say "Count it all joy, my brothers, when you meet trials of various kinds." This aspect of Christian Joy has the tendency to temper our lives and balance our mood when we live it consistently. The world tends to stereotype Christians as either Pollyanna-esque madmen with constantly pasted smiles, or as depressing puritanical martyrs. God would have us be neither of these, but something steadily merry in between. Our baseline attitude should be one of joy and gladness. That's why, as a follower of Christ, we don't get caught up in one night stand drunken orgies that leave us empty after the delirium has left… But we are some of the cheeriest, gladdest, merriest people on this planet.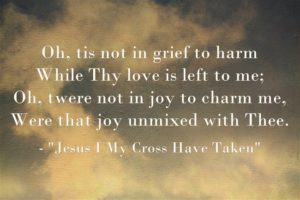 How can I have joy? Now we get down to the nitty gritty.
Pray for joy. The most important way to get joy is to pray for it, because it comes from God ultimately, like every other good thing. Joy is a work of the Holy Spirit, and we should ask Him regularly for it (James 4:3). Why do we need to ask for something God commands? Because "…it is God that works in you, both to will and to work for his good pleasure" (Philippians 2:13).

Meditate on God's word often. Pondering His person and salvific work on our behalf are especially good ways to foster joy in our lives. I can root myself in God and nurture a blessed life by being a person who "meditates day and night" on God's law, His word (Psalm 1:2).
Force yourself. This is an often overlooked way to have joy, though it sounds odd and vaguely unspiritual. However, a gritty determination to make myself joyful is Scriptural. Grizzled old Habakkuk says[2] "Yet I will rejoice in the Lord, I will joy in the God of my salvation" (Habakkuk 3:18 KJV). Clean shaven young David says[3] "Why are you cast down, O my soul? And why are you in turmoil within me? Hope in God; for I shall again praise him, my salvation" (Psalm 42:5). David is lifting his dejected soul up by its own spiritual bootstraps, so to speak. Well and good, but how exactly do I do that?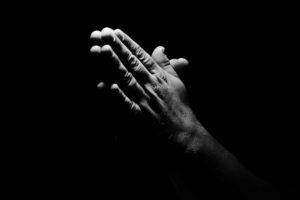 Remind yourself often. Talk to yourself often about all the reasons to have joy (just don't do it aloud in a public place). Work to memorize scriptures behind those reasons. Pray always. Remember joy is more than a feeling. Be a thankful person. Frequently giving God thanks for all his many benefits. Talk like a joyful person. Try to avoid grumbling and complaining about frustrating circumstances and people most of the time. Rather, speak thankfully and speak kindly.
A word of caution seems appropriate. Don't annoy people by acting constantly cheery, like a morning person on 3 shots of espresso. I've learned it's generally a bad idea to talk about reasons to cheer up to someone who's suffering. That's why Paul enjoins empathy in Christ followers. "Rejoice with those who rejoice, weep with those who weep" (Romans 12:15). The last thing a widow needs to hear at the funeral is "cheer up, it'll get better with time," or even worse, "remember, God says to rejoice always." In general, you should avoid being a Pollyanna to other people. But: be one to yourself.
Conclusion? The baseline attitude for a Christian is joy!
The more I ponder the Bible's advice on joyful living, the more I realize the depth and practicality of the subject. By God's grace I hope to spend the next 50 or so years of my life studying and applying the topic further. And I hope you will too.
[1] http://webstersdictionary1828.com/Dictionary/joy Accessed 8/10/17.
[2] In a time before Bic razors were invented
[3] Who, if all the children's Bible illustrations can be trusted, somehow managed to shave before Bic razors were invented.