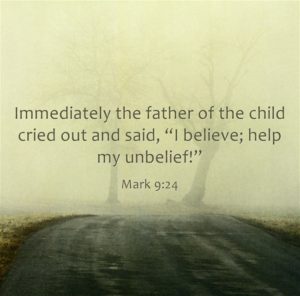 A passage that stood out in my Bible reading was the account of Christ casting a demon out of a little boy in Mark 9:14-29. There is such heart-tugging tragedy here, and one wants to leap for joy by the end of the account. As a father myself, I can scarcely imagine what this father who brought his possessed son to the disciples must have been going through. "…it has often cast him into fire and into water, to destroy him…" he tells Jesus, as the boy writhes and foams there on the ground in front of all their eyes, as he had done countless times before his terrified father over years of awful suffering. This is the kind of thing that makes my pitiful complaints about lesser problems stick in my throat.
In verse 22 we see the father's lack of faith, I think brought on by so many years of despairing of ever finding a cure, and Jesus highlights it in the next verse ("'If you can!'" he repeats almost as if offended). If some teachers and writers are to be believed, that should have been the end of it. This man lacked faith, so the miracle stops there. It can't happen. In the parallel account in Matthew 17 Jesus even tells the disciples that it was their lack of faith that prevented them from driving the demon from the boy (17:19). Then (17:20) He issues that famous saying "…For truly, I say to you, if you have faith like a grain of mustard seed, you will say to this mountain, 'Move from here to there,' and it will move, and nothing will be impossible for you."
But here we see this desperate father, his soul calloused and worn by the time of unremitting terror for his boy's life and heart-rending sorrow at his boy's suffering, struggle to come up with faith like a mustard seed. "I believe; help my unbelief!" he cries (v. 24). And many translations add that he cried this "with tears." He didn't just state it. He wept it. Oh! How truly this rings out in the hearts of so many of us today! I
n the face of personal tragedy or atheistic teaching or worldly peer-pressure or guilt over our sins s
o many doubts can plague and squelch our faith in Christ – Whom we have not seen (John 20:29). And without faith it is impossible to please God (Hebrews 11:6).
Perhaps Jesus
'
offended tone in v. 22 was evidence of His Godhood displeased by this man
'
s lack of faith. This is the watershed issue. We have to be able to take God at His Word to ever find peace or joy at serving Him. Yet this can be so very, very hard for us to do. Satan has opposed it from the beginning. Was not his first lie to our ancestors hinged on doubt of God's word ("you will not surely die…" Genesis 2:4)?
But see here the amazing mercy of Our Savior in accepting this father's doubt-ridden plea! He certainly could have said "come back to me when you have faith" – but He didn't. Instead, He said "You mute and deaf spirit, I command you, come out of him and never enter him again." With one sentence, pronounced by the Great King who holds the keys to death and hell (Revelation 1:18), that devil who had been the poor little boy's persecutor for so many years, convulsed him one last time and left forever, fleeing from the presence of almighty God.
Who can fathom the astonishment, the relief that must have flooded that father's heart and stung his eyes with very different tears to see his boy gently lifted by the Savior's hand: whole, for perhaps the first time in his life? And the mercy of God is shown in the father's words as well, that he cried to Christ to help his unbelief. Here is mercy indeed! What an astonishing thing that God, Who is the offended party, Who is the great King, Whose word we dare to doubt in the first place, would stoop to help us believe Him rather than just being done with us in disgust.
Philippians 2:13 says "for it is God who works in you, both to will and to work for his good pleasure." We are so weak, and distracted, in love with the dumb stuff of the world around us, slow to believe spiritual reality, slow to trust God at his word. We have to say with the eloquent poet George Herbert…
"
Lord, mend or rather make us: one creation
Will not suffice our turn:
Except thou make us dayly, we shall spurn
Our own salvation.
"
But this is the wonder of our God's love: that He does "make us dayly." He, through his Spirit, helps us even when we doubt Him. Take comfort my soul in this, that though you stumble, though even your very faith falters, if you are Christ's He will bring you through it. We don't know what became of this man and his son, but I hope someday I
'
ll get to hear the story from their own lips in heaven.